High Mileage Sedan Adventure (150k+)
04-24-2015, 03:31 AM
High Mileage Sedan Adventure (150k+)
---
This will be a review/photo record of what buying a high mileage G is like.
Bought my first Infiniti last month, a 2005 G35 Sedan Premium with a hundred and fifty-one thousand miles on it. I had a lot of preconceptions about G35s, I had a general feeling that they were unreliable and sub-par luxury cars. Coming from Toyota, and Honda I had no idea what to expect. The reason for the purchase was I needed a new daily around the four thousand dollar range. I had my eyes set on an Integra which goes for around five grand in my area, or a older Lexus LS400 which also goes for around five grand. Obviously I am planning to work on the car myself and cars is my hobby. I was camping craigslist when an ad popped up for a G35 with a too good to be true price. I called the guy and met up with him the following evening. He lived in a sketchy part of town and yes he was also very sketchy. He arrived with the car running. He had drunk driven and ran into a guard rail with part of the car., so there was some damage. The interior seemed alright and everything worked. He was high as f*ck so I had to ask him the price over and over again because I thought he was mistaken. He reassured me that $2500 was his asking price. I managed to talk him down to $2400!!
On to the pictures
Here's how it looked when I got it
Here's some shots of the fixes that are being done. Headlight replacement, fender replacement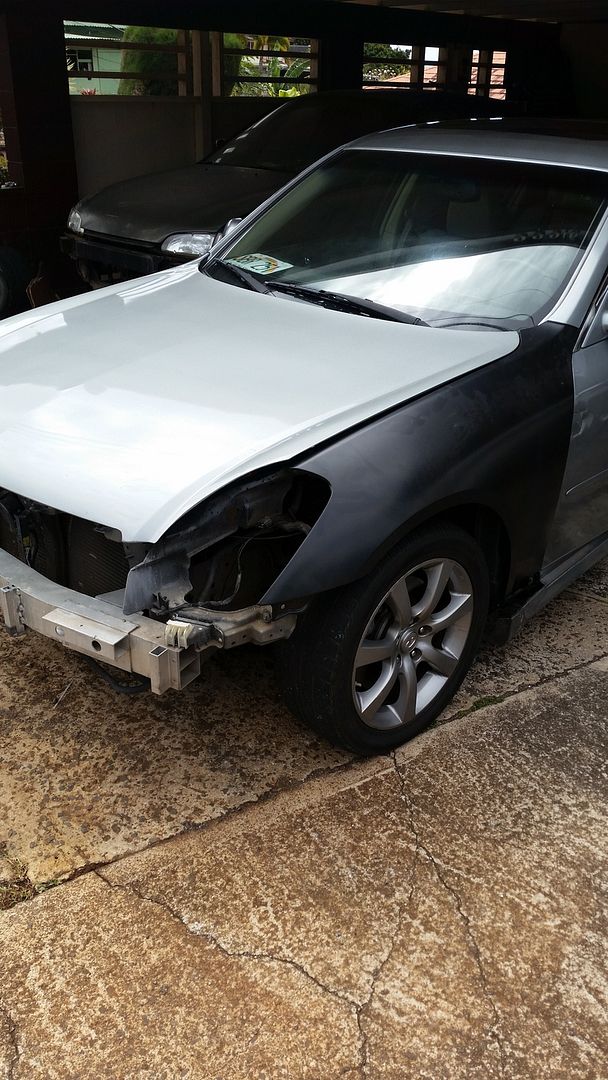 The idiot before me managed to do an oil change, but ruined an otherwise well kept car.
I managed to get it registered and safety checked (a Hawaii only thing). I am now driving it around and I have to say the car surprises me everyday. The power is great, many many torque, and the amount of luxury features is amazing. It doesn't feel like a 10 year old car, although the suspension could use some work. For a car that has been in a accident and is high mileage I would say that this car runs and drives great.
Things that are broken that still need fixing are:
VSC light keeps de-activating every time I floor it.
Check Engine Soon light is on
Airbag light keeps flashing on and off.
The a/c shuts off in traffic.
Interior is dirty as hell.
Here's a shot of the grossness
More content to come after I start restoring/modifying
---
Last edited by KenTK808; 04-24-2015 at

05:14 AM

.
The following users liked this post:
Thread
Thread Starter
Forum
Replies
Last Post
Engine, Drivetrain & Forced-Induction