FS: SuperMade Nissan 240sx Fastback - Bride/ARC/DippedParts/ChaseBays etc......
04-07-2011, 04:33 PM
Join Date: Nov 2007
Posts: 14
Thanks: 0
Thanked 0 Times in 0 Posts
Import Tuner feat. 92 240sx Daily/Show Car (Complete or Shell)
---
Contact:
[email protected]
Location:
Fairfax, VA
Price:
14,000obo willing to remove the following to lower price:
-Bride Seat
-Origin Rear Seat Delete
-Next Miracle X Bar
-Autopower Roll Bar
-Takata Harnesses
-Arc Intake

Also willing to sell the car as a rolling chassis/shell.
This is my 1992 Nissan 240sx that was recently featured as the cover car for Import Tuner October 11' (In stores now). I built this car from a bone-stock chassis and I'm selling it in order to fund my new project. It is my daily driver and has never been drag raced, tracked or drifted. It has been garage-kept and babied its entire life. All parts used throughout the build are quality with no corners cut. I documented the build on zilvia:
http://zilvia.net/f/chat/196188-supe...up-thread.html
The only thing not documented is my recent engine bay project which was completed Fall 2010. The car is in great condition and is a driver's car as opposed to a track car. It has full clean interior, power windows/locks, power steering and heat. The car at the moment does not have AC because I decided to remove it for aesthetic reasons. Howevever I will include, with the car, everything needed in order to hook up AC should you decide to install it. The AC line is custom and will just bolt right on. And all the wiring for AC is still there despite the wire tuck.
The turbo seals are gone, so the turbo will need to be replaced. The front fenders have a crack and the bumper does also on the passenger side, hard to notice (in pictures and video below). Besides that the car runs fine and the body is straight, glossy and dent-free. I'm always asked if the car just got out of the body shop lol.
NOTE: The car does not come with the Work Varianza D3S's, driver bride bucket seat or valve cover as those have been sold. Instead it will come with 300zx wheels. See below to see whats included.
Featured in this month's Import Tuner as the Cover Car (In stores now):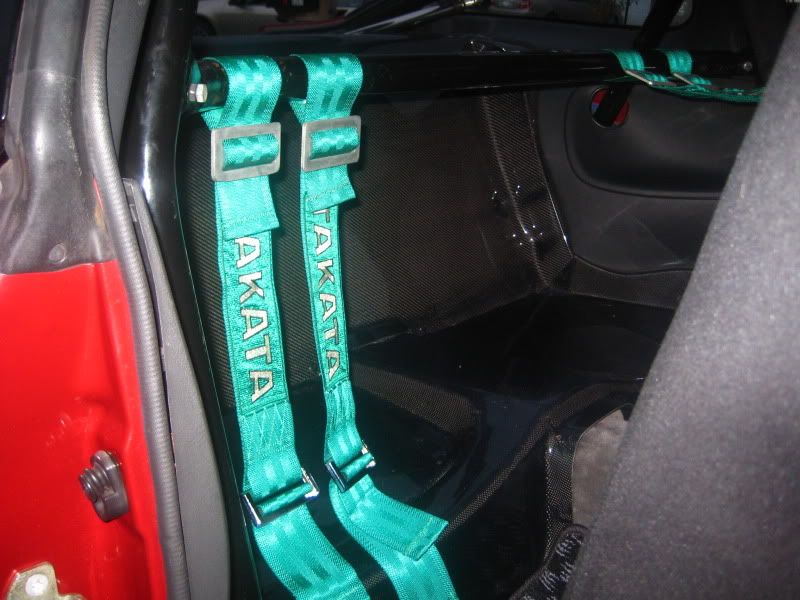 Video:
1992 Nissan 240sx
Title: Clean
Engine Bay and Engine
Resprayed Engine Bay Cherry Red Pearl with Custom Pearl
Welded Hot Pipe Hole and Battery Tray Shut
All unnecessary brackets shaved
Firewall and Brake Booster Wrapped in Gold Heat Reflective Film
Blacktop SR20DET *45k miles*
The following maintenance was done in Fall 2010:
NEW OEM Headgasket
NEW OEM Water Pump
NEW OEM Oil Pump
NEW OEM Timing Chain Guide and Tensioners
NEW OEM Valve Cover Gasket
NEW OEM Intake Manifold Gasket
NEW OEM IACV Gasket
NEW OEM Shifter Gasket
All New Hoses
Tranny Fluid Flushed and Replaced with Motul
Durdan Perfab Wire Tucked Harness wrapped in Techflex Sleeving w/ Fusebox Relocated to Arm Rest
Chase Bays Brake Line Tuck Kit(Black) wrapped in Gold Heat Reflective Film
Chase Bays Clutch Line(Black)
Dippedparts *Titanium Burnt Finish* ARC Intake Induction Box
Baller Bolts "Titanium Burnt" Strut Tower Nuts
Baller Bolts "Titanium Burnt" Valve Cover Nuts
ARC Oil Cap w/ Baller Bolts "Titanium Burnt" Nuts
Kinetik Carbon Fiber Coilpack Cover
*Carbon Fiber Dipped* Greddy Intake Manifold w/ Powdercoated "Jet Black" Throttle Body
Powdercoated "Jet Black" New OEM Fuel Rail
Powdercoated "Jet Black" OEM Catch Can
Mishimoto Fan Shroud Powdercoated "Jet Black"
Mishimoto X-Line Radiator
Samco Black Radiator Hoses
Touge Factory Gold Pulleys
Parts Shop Max High Mount Intercooler Kit
Triple Chrome Dipped Cold and Hot Pipe
Triple Chrome Dipped Radiator Brackets
Triple Chrome Dipped Heat Shield
Steel Braided High Pressure Power Steering Hose
Greddy Rocker Arm Stoppers
Greddy Oil Pan
Nismo Motor Mounts
Nismo Tranny Mounts
NGK Iridium Spark Plugs
Walboro 255 Fuel Pump
MR 3" Downpipe
CATCO 3" High Flow Catalytic Converter
Exedy Stage 1 Racing Clutch
Nismo Clutch Pivot Ball Stud
Exterior
Resprayed Body Cherry Red Pearl with Custom Pearl ($5500)
Supermade Modified One-Piece Headlight with PIAA P-3000
Supermade Front Bumper
Supermade Side Skirts
Supermade Rear Bumper
Supermade Rear Trunk Spoiler
GP Sports Modified Door Cap to sit flush with sideskirts
326Power Rear Roof Spoiler
Front Rolled Fenders
Rear Pulled & Rolled Metal Fenders
Nissan 180sx Quarter Panel Windows
Nissan 180sx Type X Tail Lights
Nismo Carbon Kevlar Center Piece
Vis Racing Carbon Fiber Trunk with Rear Wiper Deleted
Shaved Rear Window Squirter
NEW Windshield
Interior
Bride XAX II(Gradiation) w/ Bride Rail
Bride Gradiation Wrapped Door Panels
Bride Gradiation wrapped Arm Rest
Bride Gradiation wrapped Glove Box
Bride Gradiation Shift Boot
Key's Steering Wheel
Key's Shift **** (never used)
Works Bell Rapfix II Hub
Works Bell Quick Release
Takata Harnesses (Driver and Passenger) w/ Takata Gel Pads
Origin Carbon Fiber Two-Piece Rear Seat Delete
Supermade Black/Grey Floor Mats (Front and Rear)
WHEELS and BRAKES
300zx Wheels(4)
Q45 2-Piston Front Brake Upgrade
Brembo Rotors (F & R)
HKS Competition Teflon Brake Lines (F & R)
PBR Performance Brake Pads (F & R)
*Brake Fluid Flushed and Replaced with Brembo in Fall 10"*
Suspension
Auto-Power 4-Point w/ Harness Bar
Kei Office XT Coilovers
Cusco Front Sway Bar
Cusco Rear Sway Bar
Cusco Rear Upper Control Arm
Battle Version Toe Arms
Tein Inner/Outer Tie Rods
Next Miracle X Bar
Ichiba Front 5-Lug Conversion
Ichiba Rear 5-lug Conversion
---
Last edited by bboyoracle; 08-28-2011 at

07:35 PM

.
04-07-2011, 04:34 PM
Join Date: Nov 2008
Location: Ontario, Canada
Posts: 14,524
****, that'd be nice.

GLWS man, this is a wicked car.
04-07-2011, 09:49 PM
Join Date: Jul 2007
Location: Pasadena, CA
Posts: 2,461
04-10-2011, 11:50 AM
Join Date: Nov 2007
Posts: 14
Thanks: 0
Thanked 0 Times in 0 Posts
Thanks for the feedback
BUMP!!!!!
04-10-2011, 12:10 PM
Join Date: Sep 2006
Location: Alberta
Posts: 5,747
That is one very well done S13
Will you trade a honda civic and a Dodge mini van for it
Just kidding of course. GLWS
04-16-2011, 09:31 AM
Join Date: Jul 2010
Location: D/FW Texas
Posts: 1,247
This fastback is beautiful
GLWS
04-16-2011, 12:54 PM
Join Date: Mar 2008
Location: Irvine, CA
Posts: 2,891
Can't find a single thing wrong with it. Beautiful ride indeed. GLWS!