Aluminum Radiators: Koyo vs. Mishimoto vs. Blackworks
08-24-2016, 02:12 AM
Join Date: Feb 2016
Posts: 3
Likes: 0
Received 0 Likes on 0 Posts
update
---
Sorry for the late response. I finally got a chance to take some snapshots.
Here is a snapshot of the fitment from the passenger side. This is with the intake air scoop removed.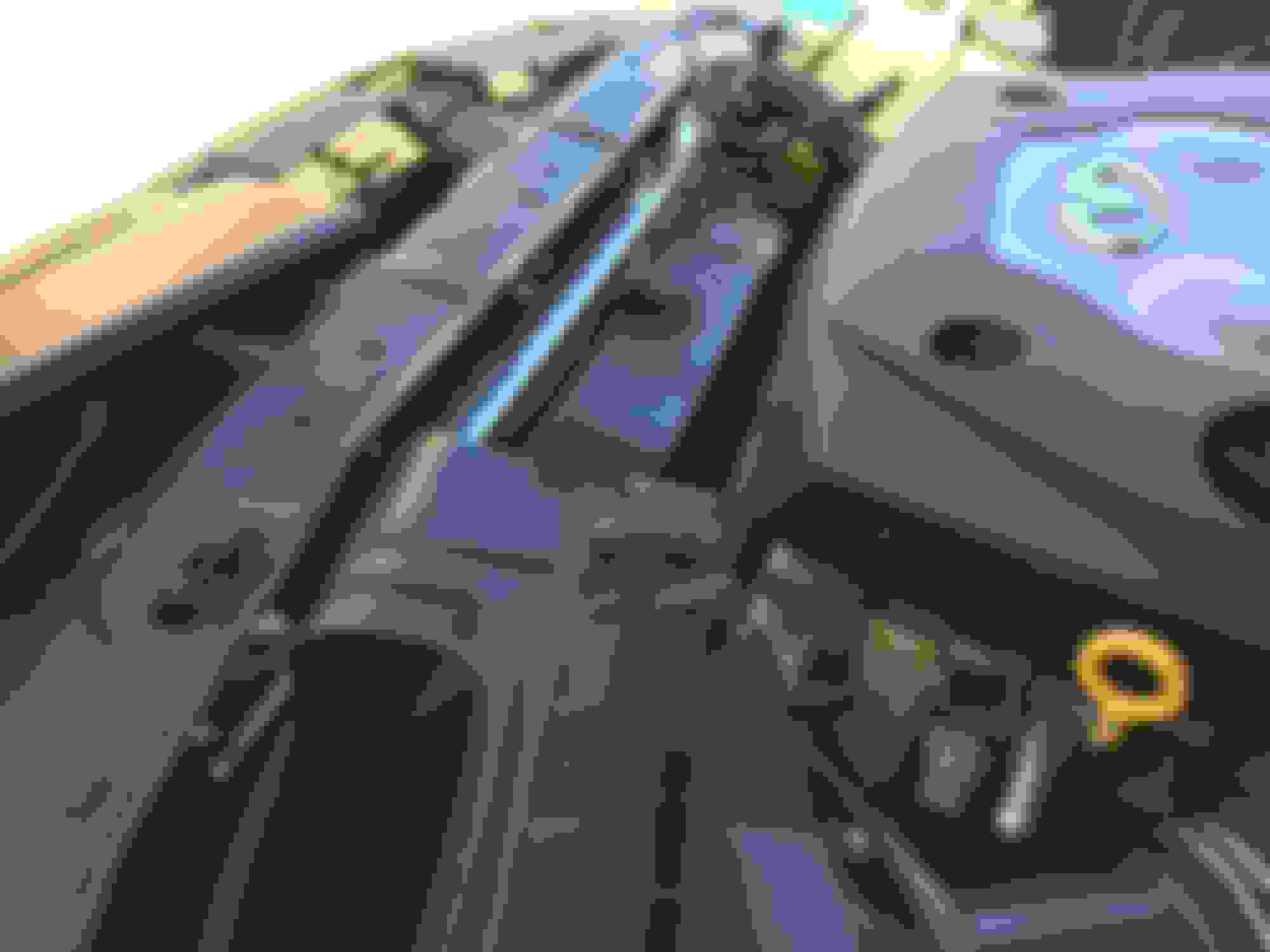 Another snapshot of the fitment from the driver side.
Top-down view of the radiator, with stock radiator fans mounted. It mounts perfectly.
This is with the intake scoop installed, it does not align perfectly. The radiator+the stock fan pushes back against the intake assembly so your have a few millimeter displaced. I just used a zip tie to secure the intake scoop. No biggy.
Top-down view, shows that the stock fans can still be used - no clearance issues.
This was the only modification I had to make. For whatever reason, the neck of the radiator didn't protrude enough in toward the back of the car. We had to shave a part of the fiberglass shown here to get it to fit.
As you can see here, I took a snapshot of the outside temps. Overall a great radiator and held up very very well. Gas mileage also improved. I drive 90% highway.
08-24-2016, 02:50 AM
Originally Posted by
mrjt
I have a 2006 G35 Coupe 6MT.
Here's a little history about the car:
1. I bought the car January 2016 used with 55K miles. Previous owner indicated the car has overheated before and had the radiator replaced. First thing I did was replace the radiator fluid with Genuine Nissan Coolant. I burped the system using the Lisle Funnel and followed instructions in the repair manual.
2. Sometime early February, the car started overheating when I was trying to find parking in a busy lot at the mall. I noticed that one of the radiator fans was intermittently kicking on. I replaced both radiator fans with new ones. Never overheated since.
3. Earlier this month (August), I have made a few trips back to Southern California from Bakersfield, taking the 99 Hwy to the 5 South and up the Grapevine. This stretch of highway is at a slight incline for a good 30 miles before you hit the base of the mountain. A combination of 100F+ weather, driving at a slight incline for 30+ minutes with the A/C on and finally climbing a steep mountain made my car overheat to ~ 3/4 mark on the temp gauge. I had to turn off the A/C just to get past the mountain.
4. I got back home in LA, and spoke to my dad, browsed the forums and decided it was probably a few things: stuck thermostat, clogged condenser/radiator with debris, or a faulty radiator.
5. I didn't want to take my chances, so I replaced everything and decided to clean the condenser while I was at it.
Thermostat was only $20, corresponding Gasket was ~$6, and a can of Condenser Cleaner was like $5 at Home Depot. I purchased a Koyo all aluminum radiator V2588 and their radiator cap for around $360 cash at a local parts store.
You can see that the condenser has bug guts, leaves and other debris lodged in there. You have to remove the bumper and radiator to properly clean the condenser. Spray the front of the condenser with condenser cleaner, wait 5-10 min.
Condenser is ready to be cleaned, supported by zip ties to prevent AC line damage. After you let the condenser cleaner set for about 5-10 mins, use a high pressure hose (on low setting) to to spray from the back to the front of the radiator to dislodge all the crap. Then use compressed air (from back to front) to force any residual water/debris out of the radiator.
Here is a snapshot of the Koyo radiator I'm about to install. Everything is a perfect fit. However, it does not come with the rubber for radiator feet. Just transfer it from the old radiator.
Here is my old radiator.
Impressions: Car overheated again initially, because I didn't burp the system properly with the new radiator. Make sure you burp it properly!. After all the trapped air was out of the cooling system, I went for a ride, drove back up north with no problems. I will update how this holds up in 110F weather this week.
Do you know what kind of radiator the previous one was? I had the same problem before I went with the koyo. It was fully functional 99℅ of the time but now and then it would heat up if it was especially hot out. I think it was cuz of cheap shoddy filler neck fitment. I could never find a cap that fit "quite right". I'd find calcium build up around the filler neck sometimes (water leak). Once I changed to the koyo tho, I've had zero probs.
08-24-2016, 03:23 AM
Join Date: Feb 2016
Posts: 3
Likes: 0
Received 0 Likes on 0 Posts
My old radiator is the stock one. I even changed to the OEM radiator cap and it was still having overheating issues before I installed the Koyo Radiator. Calcium build-up is usually due to using non-distilled water. Make sure you mix your fluids with distilled water.
09-10-2016, 05:45 PM
Join Date: Nov 2015
Posts: 1
Likes: 0
Received 0 Likes on 0 Posts
I have seen mishimoto fitment issues on posts back in 2012. I thought thy might be fixed. I purchased one this week and was not please at all with the fitment at all:

-Condenser tabs off slightly, had to slightly bend inward to fit
-posts for rubber mounts were angled away from holes. Had to remove and slightly knock inward.
-Too much weld on mounting posts did not allow full insertion of rubber mount
-Front tabs insertion points for fan assembly were not wide enough. Had to trim the tabs to allow them to fit.
-Slight imperfections pushed rad out enough that it does not allow air box to fit back in. Had to remove everything and trim more stuff.
-Had to trim away at frame top to allow filler to fit in and be able to turn cap effectively.
09-15-2016, 05:00 PM
Hello everyone,
Thanks for the post.
While we understand your concerns based off of feed back from other members, we can assure you that there are alot of customers who have not had any issues with our products.
If anyone has ever had an issue, we have a lifetime warranty and can guarantee you that our customer service reps will do everything in their power to help.
At this time we do not have a set ETA for the new unit to be available but we are working diligently on getting this done for you guys.
Feel free to contact us directly at,
[email protected]
and we will be happy to answer any questions, or address any concerns you man have.
Best regards,
Mishimoto
The following users liked this post:
09-15-2016, 05:30 PM
Join Date: Mar 2011
Location: Central NJ
Posts: 2,025
You should never pay cash for anything!
Use a credit card that gives you a degree of protection against defective parts, workmanship, and documentation.
Telcoman
01-07-2019, 12:49 PM
I just installed the Mishimoto since there's a 8 week backorder on the Koyo.

Fits pretty good. Took some fiddling.

Yes, the rubber boots that go on the bottom pegs, I had to trim a little bit of the top portion of them for it to fit. Also that Mishimoto rad cap sux and cannot fit w/the rad support panel right there. So I re-used my Nismo one. Snug fit, but works better.

Bottom rad hose, the bracket for the elec fan is pretty darn close. Had to slide in the worm clamp (no way stock clamp can fit) on there first before putting on the hose.

Sits a tad higher, so my Stillen CAI doesn't quite fit now as good, forcing the hood to be a wee bit raised on that driver's corner.

Cooling I think is okay, 1-3mph driving I showed a max temp of 195.5 deg.F, but idle...188 or so, driving...about 179. I think that's all normal??!?
01-07-2019, 12:54 PM
Oh, Also, I think all Mishimoto rads are automatic-types? So it had the extra outlets on the bottom for trans cooling. I had no idea if any coolant goes through those extra spigots on the bottom so I connected them both with some 1/4" (tight!) EFI hose together (to eachother). Probably not necessary since I think trans fluid goes through those???
Thread
Thread Starter
Forum
Replies
Last Post