P45R3's
05-31-2013, 08:20 PM
P45R3's
---
Im really impressed with Rota for coming out with such an agressive rim.
What do you guys think. I want to get 2 of them, because I have p45R2's, So I could get wide staggered rears.
The offset is 18x12 +20
What would I have to run camber / Tire Size to pull it off.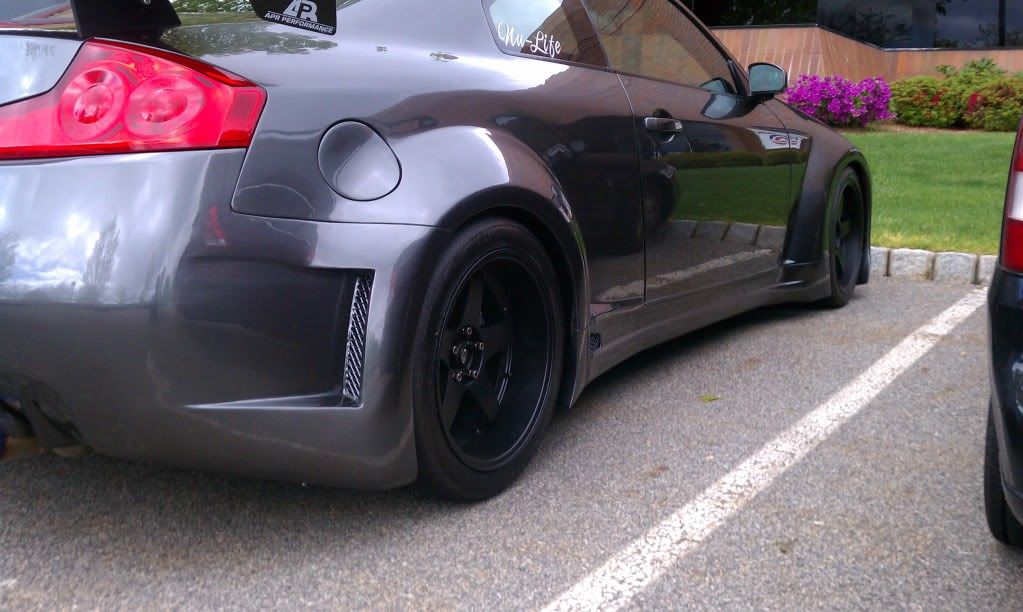 06-01-2013, 09:11 AM
Well... the first pic is of Work Equips and the second is of a widebody so I'm not following what info you hope to glean from either of them....

But anyway - it'll partly depend on your ride height and fender work, even a roll will sometimes end up with a slight pull so it's going to vary from car to car. Best bet is get them, put them on the car, and measure where you're at for tires while you tweak the suspension to get whatever amount of tuck you're looking for. It's not super easy to run a 12 in back, very doable but you have to be careful about how much camber you're running. I think if you go over -5 or so you'll be cutting it close to the struts/coils. On the bright side, it's not so aggressive at +20 that you'll need that much camber, especially if you do a little fender work.

Long story short, they'll fit with some work, but how exactly will depend on you. Grab them and start measuring and playing with fenders and camber until you find what works for you.
06-01-2013, 09:36 PM
Oh, Sorry, I just typed P45R3 into google images and posted the first 2 pictures i saw.
As for Camber, right now Im at 3. But Im pretty low.
I just want a little more dish at the back.
Reason why I stick with Rotas is because aside from what ppl say, They make a decent rim. They are cheap enough if I do bend one on our shitty roads, I dont even pout about buying a new one.
On the Track I run a set of NT03's or GTC01, depending if I want a Square setup or not (Which is depending ont he track Im at)
06-02-2013, 09:09 AM
That makes sense. I still say you'll be able to make them fit for sure, but at -3 (your current camber), is questionable. You'll probably need a very aggressive fender pull but that's just me guessing and I haven't had enough coffee yet. I can compare yours to mine, slightly, I have 11.5+2 which would be similar in poke to a 12 +14? I think? Anyway I'm running -5.1 camber in the rear with a pretty minor flare rather than a full pull so with my fenders I could probably get away with -4 camber on a 12+20.

Now what that all means is unless you do enough fender work to clear them with your current suspension setup you're going to have to adjust and realign every time you go to the track. If you can get a decent fender pull done you should be fine. So with all that in mind, as long as you've got the body skills or source for them, you're good and go for it.
06-02-2013, 09:09 AM
And if my math is all ****ed up, my apologies, I'm still trying to wake up, but I say get them and start the measuring and any body line/fender adjustments and tire sizing from there.
06-27-2013, 12:17 AM
haha I went with some NT03's and run 305/35R18's in the back and 275/35R18 in the front.

In a week rears are going to 295/35R18 R888's