Back in a bigger G, New from Utah
01-31-2011, 05:31 PM
Back in a bigger G, New from Utah
---
Hey guys whats up? Just bought a 2005 G35X from a friend, learned about this site from him. So far I freakin love this car, its perfect, and exactly what I wanted, shoot, even my wife is wants one now, so its time to sell her scion and get her one eh?
Not sure about my future plans for it, it doesnt need much maintenance the previous owner took real good care of it, thinking Ill start with stereo stuff, get my kids a dvd player in there with a couple screens, maybe a nice double din HU, definitely some new wheels, not sure what else, gotta do some searching on here.
Here is the car with a list of mods the previous owner did:
Motordyne 5/16 copper plenum spacer
TB spacer
UR crank pulley
Stillen intake
GGG 10 wire ground kit
HKS rear section
Berk cats
350z HR Y pipe
Suspension:
19/8.5 Tenzos with BF G-force tires 255/35 only a few k on them
Stock 17s with almost new Blizzaks on them
Stoptek rotors
Porject mu/hawk pads
Strut tower
H&R springs
SPC camber kit, still need to install
Other mods:
20/35/50 tint, including windshield and taillights
Clear corners/LED
Mtec 6000k HID
partial debadge
mud flaps gone
RHD battery cover
10" sub with 1500w amp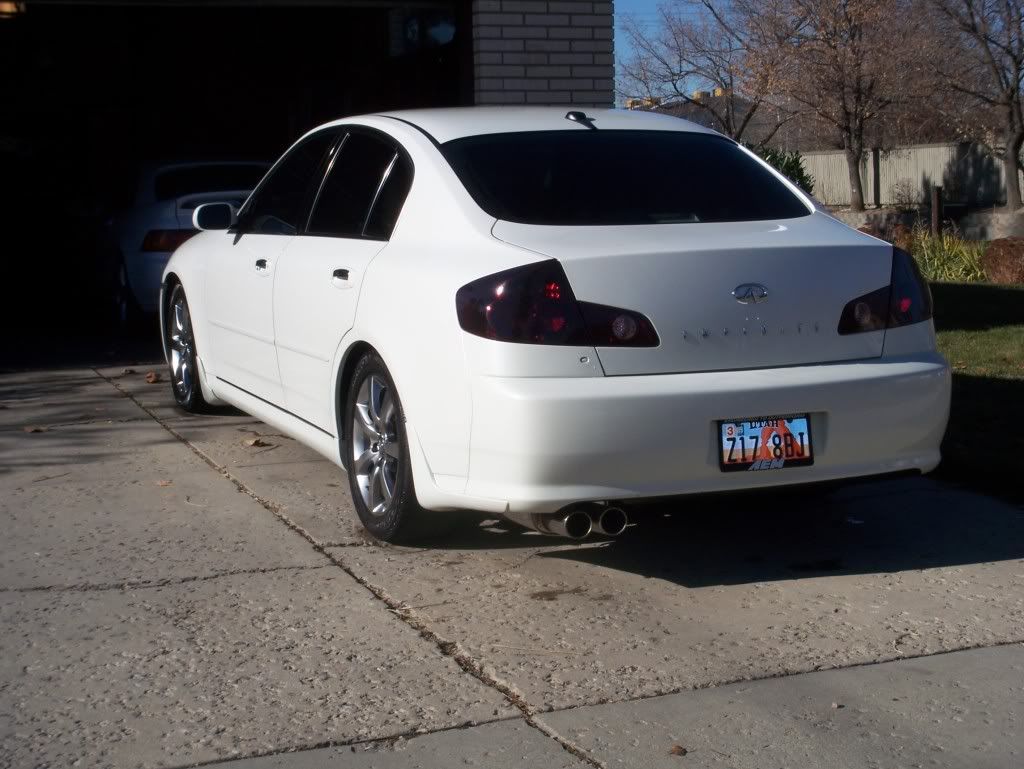 Here is my previous G. A 1999 G20, I sold it to get this car.
Mods:
Engine:
HKS gt2835r turbo (10psi wastegate)
BB manifold
Z32 maf
all new manifold/turbo gaskets (oem nissan)
stainless studs w/ copper lock nuts on turbo manifold and turbine3" megan racing downpipe - stockish exhaust
640cc mototron injectors
JGY front mount intercooler
exedy clutch
jgy IC piping
HKS SSQV BOV
JGYtop feed fuel rail
walbro 255lph fuel pump
nismo fuel pressure regulator
summit fuel pressure inline gauge
JWT computer (1996 200sx ECU) No Check Engine Lights.
91 intake cam
Big *** K&N air filter
K&N oil filter : )
Suspension + Body:
Tein S-tech spring
KYB GR2 shocks
NJprimera grill
5k HID headlights
3k HID foglights (with yellow tint on lenses)
Drag DR-17 wheels 17" with nitto neo gen rubber
LED parking and license plate lights
Interior:
Sony CD player
Pioneer Premier 4 way 6.5' speakers in the front
Pro Sport Boost Gauge
Pro Sport Oil pressure Gauge
I know theres more, I am just forgetting.
01-31-2011, 08:50 PM
Welcome to the forum!! nice g20 you had,like the mods you had on it. Nice step up though love the IP sedan with a nice set of mods to come along with. Another other mods you plan for the future? Rims possibly??
01-31-2011, 09:00 PM
very nice Gx, i love my AWD too
btw...you can send those stock wheels my way since you want something different haha...welcome from one new guy to another
01-31-2011, 09:29 PM
Nice looking G. Welcome to the forum. My sister has a 99 G20 with about 119k on it. It keeps surprising me on its reliability and ridiculous gas mileage. Love that thing.
01-31-2011, 11:48 PM
Too bad you had to sell the old one to get the new G. G20 is one of my favorite cars of all time. You had it very tastefully modified. Welcome to the forum.
02-01-2011, 12:16 AM
Wow. You must have bought Bryans car. Welcome to the crowd. I love the Black Tenzo 19s he had on that sedan. He kept it very clean. You got a nice buy.
02-01-2011, 01:23 AM
-MN G Crew-
Join Date: May 2007
Location: Fargo ND/Eden Prairie MN
Posts: 21,010
Damn, G20 looks clean and so does the G35x! Welcome to the forum!
02-01-2011, 01:46 AM
What everybody else it saying: both look really clean! Looks like you don't have to do too much more in the way of performance mods.

Welcome to driver!
02-01-2011, 11:11 AM
[QUOTE=Jerimiah;5643714]Not sure on future mods to be honest, I always say Im gonna leave a car alone and not mod it...and it never quite works out as planned.

What is IP? Trying to learn some of the G35 lingo. lol IP is the color of your car, Ivory pearl, which is one of the nicest colors for a G