CandlestickPark's 05 Sedan Progression Thread
07-21-2010, 12:15 PM
Join Date: Jun 2007
Location: Long Beach, SoCal
Posts: 23,261
CandlestickPark's 05 Sedan Progression Thread
---
I should have created this thread a long time ago. Rather than making separate threads when I do something new to the car I'll post in here.
When I first stumbled across driver after getting my car in 07 I wanted clear corners an OEM lip and Coupe 19s and I was going to be "done". After seeing some modded Sedans (and Coupes) at local meets and on driver I got bit by the mod bug.....hard.
Thank you to all who have contributed to my build, ya'll know who you are, couldn't have done most of the stuff to my car without you guys. Who knew that through modding a car I would make so many friends and develop a passion for photography.
Thread is a work in progress, still need to add some mods and pics....
Stock, tint was installed by previous owner - April 2007
Clear corners, OEM lip, Coupe 19s - July 2007
DSC02085copy.jpg?t=1279725134
Wilwood 6p/14" Front BBK - September 2007
Eibach Pro Kit Springs/Tokico D Spec shocks, HKS rear section exhaust, debadged, Stillen sways - December 2007
DIY OEM Emblemless Grill - April 2008

KuRookie front bumper, color match mirrior bases, shaved/custom molded spoiler trunk, BC Racing Coilovers - February 2009
NisRookie Sideskirts, 19" Nismo LMGT4s, HR Y-Pipe - July 2009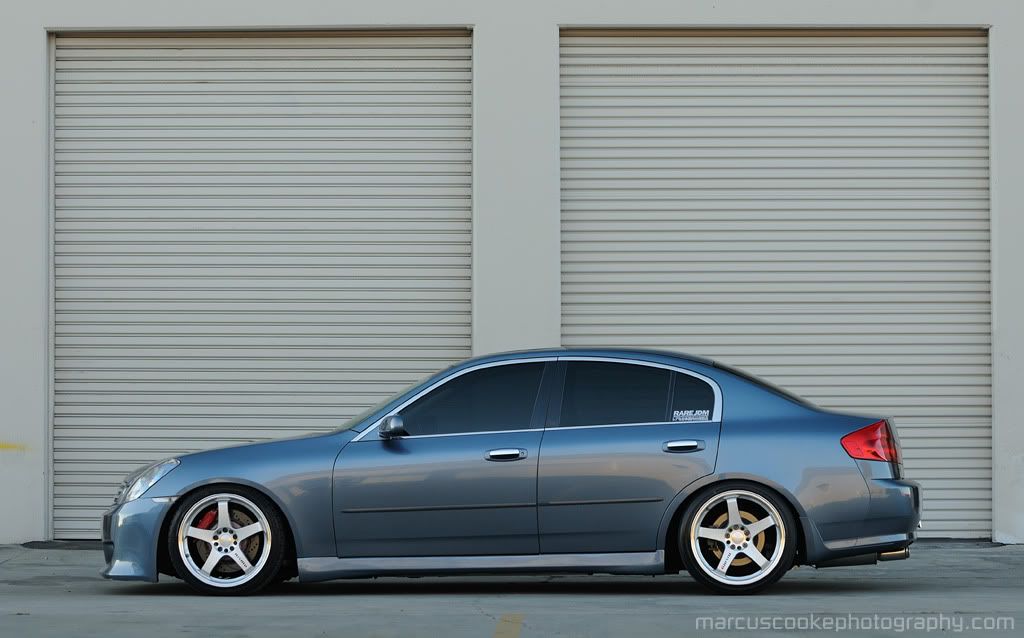 Stone G35 Coupe Seats, M45 shift ****, painted headlights with cleared out turn signal, Optima Yellow Top - September 2009
ILL SDAN plates and 3.5 w/vLSD rear diff - November 2009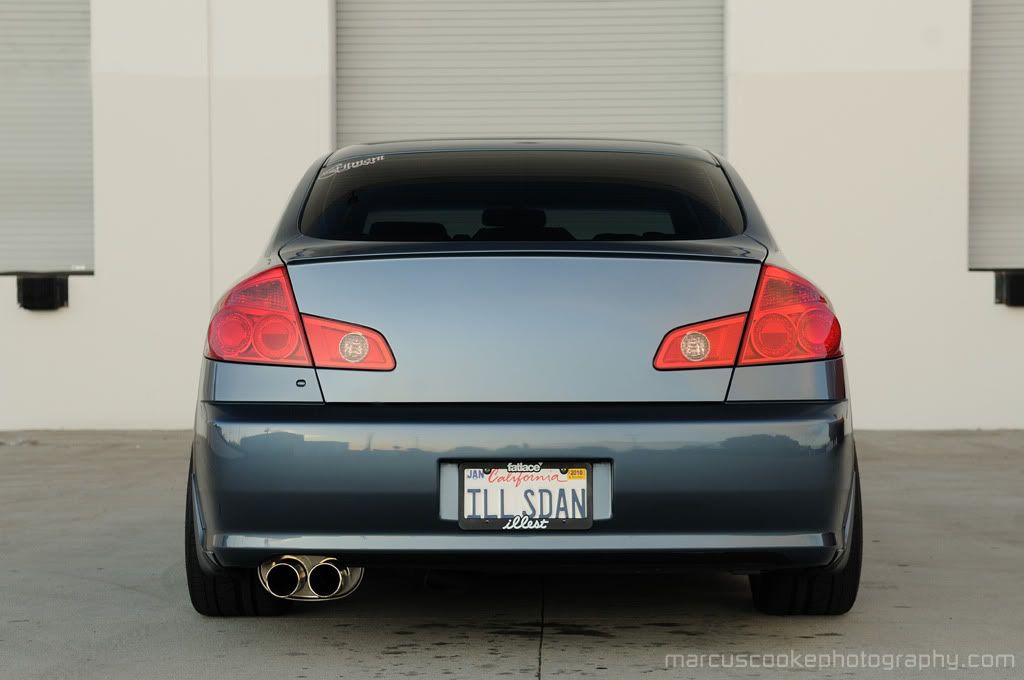 Rear Wilwood 4p/13" BBK, 03-04 Sedan bumper, 03-04 Sedan mudguards, Nismo Aero Rear Lip - January 2010
Some pics of the parts that ended up on the car:
Projector Retrofit - June 2010
Details on the headlights as done by IvoryGT:
2nd Gen Bi-Xenon Sedan Projectors
2nd Gen Sedan Shrouds
White LEDs around the outside of projector
Amber LEDs inside Shroud
Mods done by RRYDE:
STi-R clear lens swap
2.5" clear lens installed in turn signal (no additional functionality it just looks sick
) - diffuser added inside clear lens to disperse light evenly throughout turn signal lens.
6K bulbs from retrofitsource.com installed
Amber Chrome turn signal bulbs installed (only light up when the turn signal is engaged like the 03/04 Sedan)
Bezels and shroud painted silver (to match my wheels and RRYDE emblemless grill)
Projectors on left, stock on right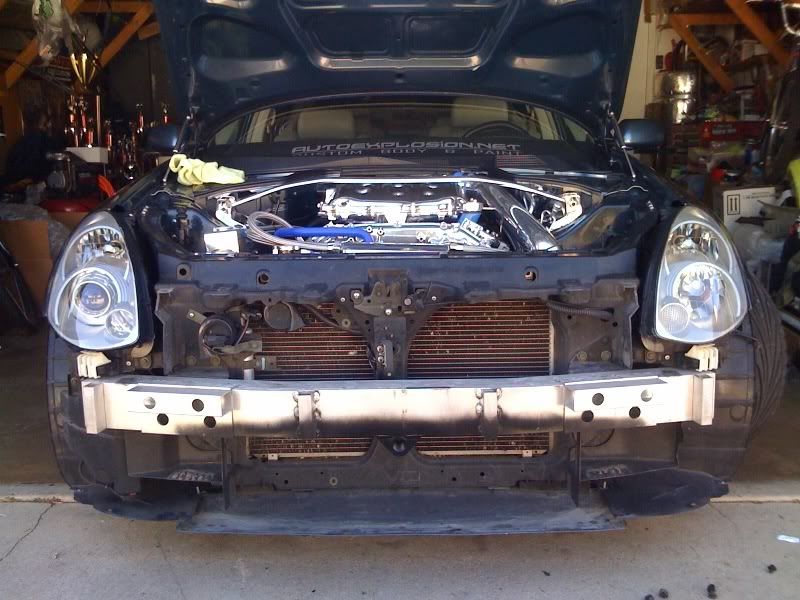 Install complete
LEDs on
Projectors on
Smaller Tires, larger spacers and moar low - July 2010
Old tires were toast.
Yokohama S-drives 225/35/19 on a 8.5
Yokohama S-drives 235/35/19 on a 9.5
Shane pulling my fenders
Rear partially compressed, no rubbing
8.5 +0 (25mm spacer) - 225/35/19 Yokohama S-drive
9.5 +10 (20mm spacer) - 235/35/19 Yokohama S-drive
---
Last edited by CandlestickPark; 07-22-2010 at

02:07 AM

.
07-21-2010, 12:16 PM
Join Date: Jun 2007
Location: Long Beach, SoCal
Posts: 23,261
Engine bay
After seeing pics and then checking them out in person at local meets I was inspired by many coupes and a certain FX
to transform my bay and rep for the sedans.
HUGE
thanks to (in no particular order) caskyline, rookie, RareJDM/Stage4Performance, AutoExplosion, OH6 G35, SxExCx, SouthBayGSedan, zackt69, bigc, martyg35, dahkyne, damineg35, k67p67, RedSkylineGT, speedraver, ShanesG, OCG35, g35papa, ttrank, Gdup35Sedan, and Calvin for the inspiration, guidance, advice, answers to all my questions, countless hours of labor, troubleshooting, polishing, cleaning etc. Couldn't have done of this transformation without you guys!
My first mods!! Stillen intake, z-tube and Z engine cover (d'oh
did I really mix Nissan and Infiniti emblems....haha, I was clueless back then)
Polished upper plenum, grounding kit, polished z tube, JDM battery cover

RareJDM main wire harness cover, NRG Polished Strut Bar and Hood dampers

Polished Throttle Body, Venair silicone hoses, Pi-Thon caps/hose locks, Nismo oil/radiator caps
JWT Pop Charger
ARC Oil Catch Can with custom RareJDM bracket and braided hoses, silicone couplers for intake tube, polished AC Lines and Pi-Thon AC Caps
Fujita intake with blue Amsoil filter, polished timing cover swap, polished VTC housings (not visible in picture, covered by harness cover)

UTR Titanium Radiator Cooling Plate
Painted and smoothed battery covers
Full wire tuck, polished lower plenum, MD spacer, pulley bracket, NRG STB brackets, painted valve covers, 100+ polished nuts/bolts, relocated VIN plate, various earl's fittings and hoses, etc., etc.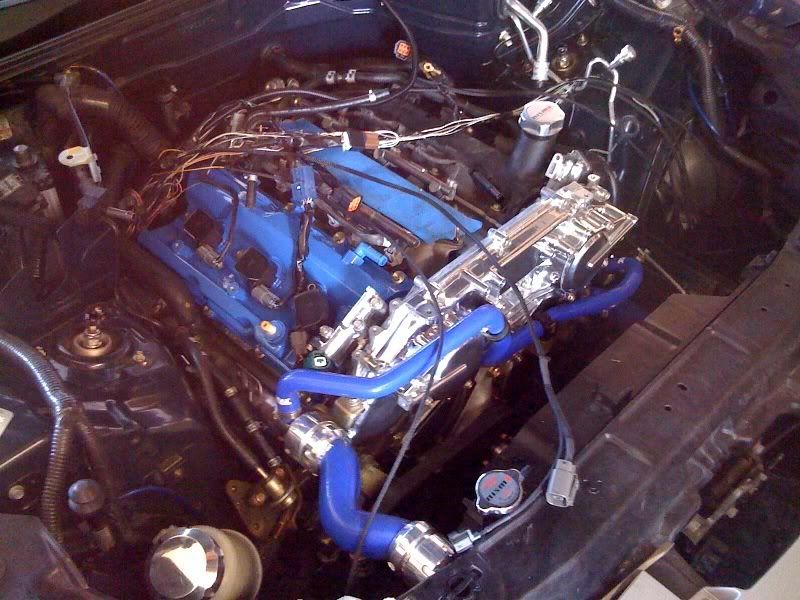 More to come, still a work in progress but almost done
9/5/2009 Update
Recent additions:
SxExCx Moroso PS Tank

FuRookie Intake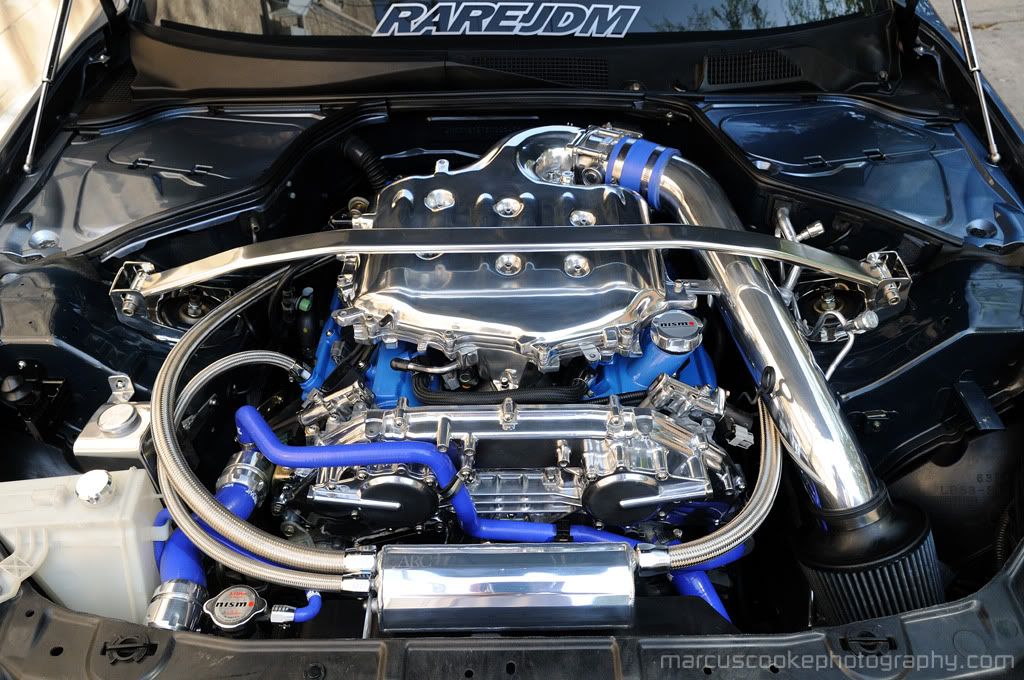 9/28/2009 Update
Not the best pic but here are my latest additions (will get some better pics up soon). Big thanks to Randy, Darren, Marty Chris, Zack and Dave for all their help!
Modified ARC Nismo Edition overflow bottle / Coolant Reservoir (polished)
Swapped out Pi-Thon hose locks for Earl's fittings on Coolant hoses
Chrome Coolant pipe (passenger side)
Polished T-Bolt clamps for intake
12/24/2009 Update
Better pics of latest changes. Removed fuel line bracket (that was located on the passenger side).
May 2010 Update
ARC radiator cooling plate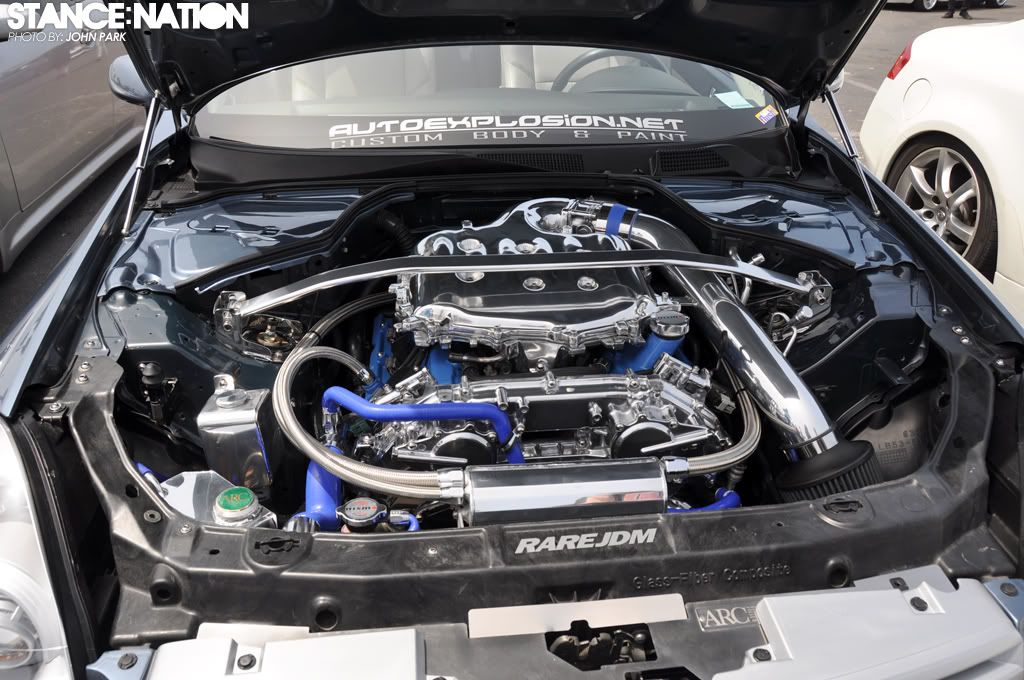 ---
Last edited by CandlestickPark; 07-21-2010 at

04:41 PM

.
07-21-2010, 12:16 PM
Join Date: Jun 2007
Location: Long Beach, SoCal
Posts: 23,261
I have been really lucky to have my car featured on various sites/blogs:
RareJDM.com feature - February 2010
http://rarejdm.com/features/marcus-cookes-g35-sedan
Canibeat mini-feature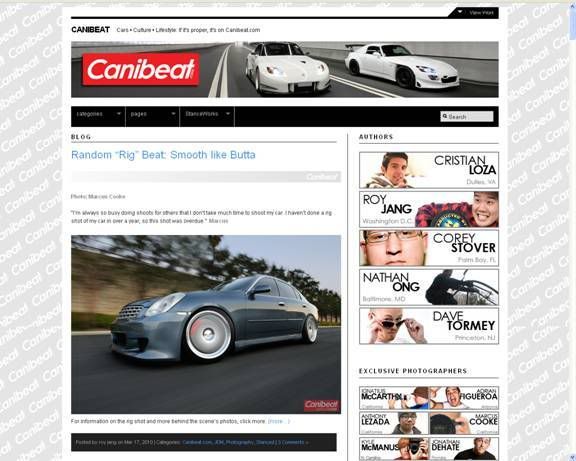 http://www.canibeat.com/2010/03/rand...th-like-butta/
Stance:Nation mini-feature - March 2010
http://www.stancenation.com/2010/03/...iti-g35-sedan/
Hellaflush Approved - July 2010
Juststance Featured Evaluation #7 - October 2010
http://www.juststance.com/featured/f...ias-ill-sedan/
---
Last edited by CandlestickPark; 10-18-2010 at

07:23 PM

.
07-21-2010, 12:29 PM
Join Date: May 2007
Location: Fargo ND/Eden Prairie MN
Posts: 21,010
Such drastic changes, but it looks good! Your car has come a long ways.
When comes the audio?
07-21-2010, 12:31 PM
Join Date: Jun 2007
Location: Long Beach, SoCal
Posts: 23,261
Thanks Janik!
Did someone say audio?
This will be installed in the near future hopefully, when I find time. The new baby put my projects in work on hold for a bit.
Still gotta pick up a backup cam, PAC unit and maybe the bluetooth module.
---
Last edited by CandlestickPark; 07-21-2010 at

12:40 PM

.
07-21-2010, 12:39 PM
Join Date: May 2007
Location: Fargo ND/Eden Prairie MN
Posts: 21,010
oooo very nice Marcus! Wait until you pair that with speakers, and a nice 10" sub. It brings so much love to the car.
My favorite thing i have done to mine.
07-21-2010, 01:29 PM
very nice marcus .. im going to make a progression thread soon but ill wait, baby also has put me be behind on things ... but its ok ill have so many thing in the garage for a nice rainy day and when the baby is sleeping ..
07-21-2010, 01:59 PM
Join Date: Jun 2003
Location: NorCal
Posts: 14,505
Congrats on the new addition to the family Marcus
07-21-2010, 02:07 PM
what a ricer! stock is best!
one of my favorite sedans marcus, great job with yoru ride. I think i remember every mod and every picture you posted in this thread. collectively in my memory for the past 3 years
haha
07-21-2010, 03:08 PM
Wings Nation
Join Date: Feb 2007
Location: SoCal
Posts: 7,923
so nice