Made MotorMaven Coverage :)
04-06-2011, 06:23 PM
Made MotorMaven Coverage :)
---
04-06-2011, 06:26 PM
ill Sedan
Join Date: Jun 2007
Location: Long Beach, SoCal
Posts: 23,261
Naaiiiiice!
Originally Posted by MotorMaven's
Itís usually hard to get full shots of a car during a busy meet. There are usually tons of people walking around, ruining shots or wandering by. It has to be tough for some photographers but, luckily, the MotorMavens Crew runs strong. If needed, we will run crowd control and ask people to halt or wait a sec while Yoshi takes his pictures.

This particular photo was hard to get since Ernie Ventenilla parked his Infiniti G35x pretty much in the center of the lot where most of the traffic was concentrated. As we were attempting to clear the area, we were met with a little hostility Ė but itís all for the art! This happens more than you might imagine.

This particular time, as I was trying to clear the area for the picture, a young man looked at me incredulously as if he was asking why was I trying to get a picture of Ernieís car when a myriad of other randomly slammed imports were driving through the lot. I guess he was more interested in some of the more gaudy bling driving by. Maybe itís not for some, but I enjoy the classic and simple styling of a luxury car. This G35x actually has one-off prototype coilovers, so itís not very common to see one of these lowered with wheels that are flush. Nice job Ernie!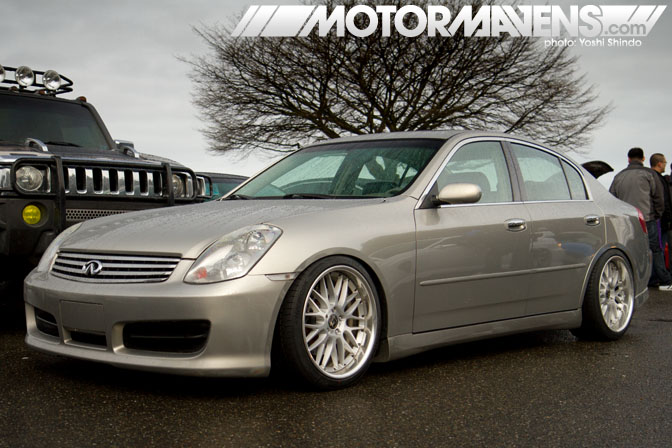 04-06-2011, 07:40 PM
VRH Equipped
Join Date: Jan 2008
Location: Oside, SoCal
Posts: 12,810
04-06-2011, 07:47 PM
Join Date: Jul 2007
Location: Pasadena, CA
Posts: 2,461
04-06-2011, 09:09 PM
Join Date: Apr 2009
Location: Denver, Co
Posts: 6,488
04-06-2011, 09:11 PM
Join Date: Aug 2007
Location: Monroeville,PA
Posts: 22,421
04-06-2011, 10:12 PM
04-06-2011, 10:15 PM
I drove ttrank's car solo
Join Date: Mar 2009
Location: By the sea, Tx
Posts: 17,387
04-06-2011, 10:23 PM
Join Date: Apr 2009
Location: Denver, Co
Posts: 6,488
Haha told you the first time we met, you're the famous one
hey my car made the shot...like Waldo ...where's shanks car...there it is! LoL also I meant in the top right ...I made the shot too hahaha
04-06-2011, 10:30 PM
Join Date: Jun 2003
Location: NorCal
Posts: 14,505
04-07-2011, 01:50 AM
? = 2B || !2B
Join Date: Apr 2009
Location: Tallahassee, FL (or thereabout)
Posts: 22,161
Nice Ernie! Congrats man
I know what their talking about in that article too. I swear sometimes it's like people are standing by waiting for you to get framed juuuuust right... and then JUMP INTO THE SHOT!
I've more than once been crouched in that weird "photographer stance" (Marcus will know what I'm talking about) be framing a shot, and then have some guy walk RIGHT in front of me, and had to stand up abruptly, and shoot the offending passerby a look of "out of my shot, or you die"
Sometimes you got to be an a$$ for the sake of the shot!
04-07-2011, 08:30 AM
Join Date: Apr 2010
Location: New Mexico
Posts: 235