Twalls Progression Thread
04-16-2009, 08:35 PM
Twalls Progression Thread
---
Stock..
2-07-09 - installed ZTube Pop Charger and 1/2" Motordyne Spacer
2-21-09 - Painted Grill and clear corners
2/24/09 - Wheels Arrived and Mounted
Mag shot 1 (courtesy of myself.. HA)
4-06-09 - Fenders Rolled - Compliments of Jose (waijai referral)
4-15-09- NF210s installed and rear overlays - installed by Richard Wong (Waijai again)
the beginnings of a nice bootie... HA
04/25/09 - As promised.. DEBADGED
(cleanup by
DRONE
)
04-28-09 Got Painted Projectors (Courtesy of Drone)
05-03-09 Installed SxExCx Grounding Kit
05-08-09 Installed Klumzyee K2 Front Bumper, Klumzyee Impul Sideskirts and Drone painted 06 Projectors
05-09-09 What I'm working w/ now..
Had to showcase the Drone projectors a little more..
05-12-09 HFC Transplant from waijai and lower mesh installed on the K2
05-13-09 Klumzyee CS Rear Install (painted by Drone) and Drone tinted corners
05-14-09 Day shots of CS rear and Grill Mesh Installed, Emblem mounted and Eyelids installed
09-09-09
- While waiting for everyone, after getting caught in the rain at our "lemme hear your exhaust meet".. We met at a coin operated carwash.. God washed our cars today.. Had to get my snap on in appreciation for the free rinse...
09-26-09
- While rolling home, saw this Blue Wall and had to shoot..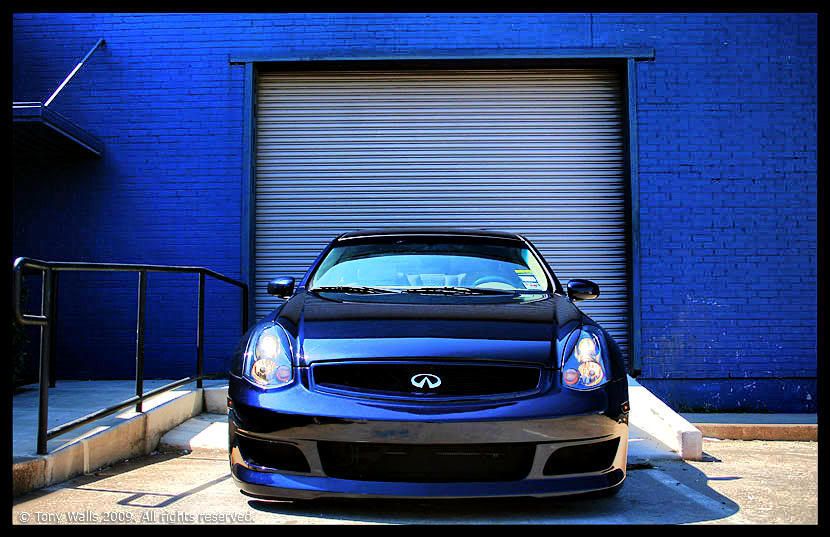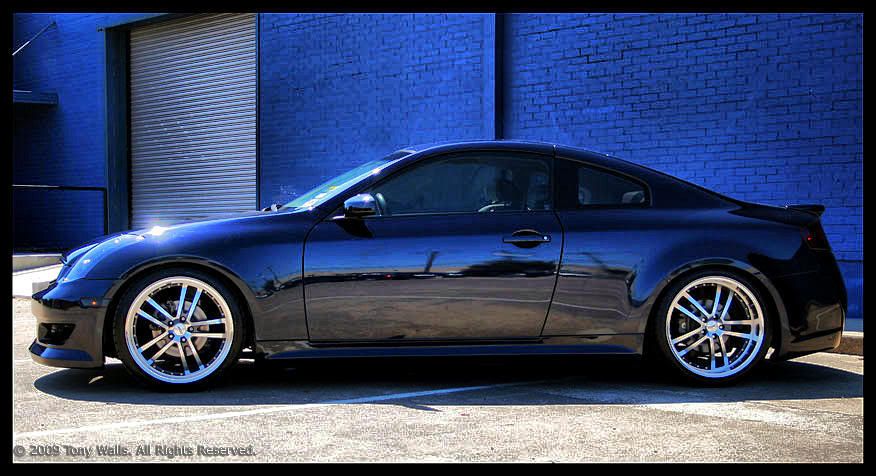 11-1-09
Me and Yash FINALLY got a chance to go and shoot our rides in Deep Ellum.. Here's the result..
http://blog.rashardanthony.com/?p=54
1-19-10
- Busted up the rear on a high curb
2-11-10
- Got Rear Re-Fibered and Painted Satin Black
FIRST MODS of 2010 - 2-13-10
- Installed LEDs in the bottom of the K2 and Momo Shift ****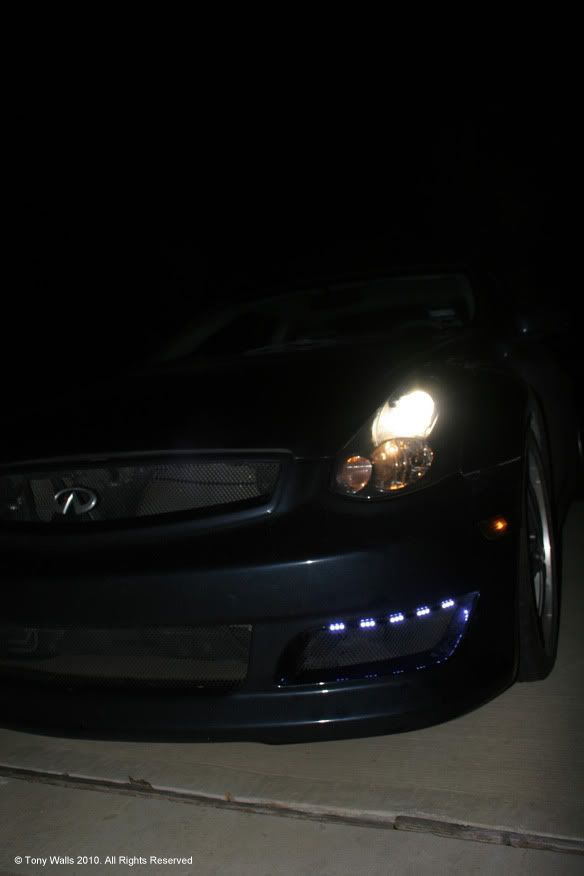 Created a
DIY for the installation of the LEDs
on my blog
02-16-10
Night shot w/ wife's Point and Shoot
02-20-10
- Installed HALO 6000k HID Bulb, removed City Light, and Replaced Side Markers w/ LEDs (from M-Motorsports)
4300K vs 6000K (4300k left, 6000k right)
Entertained the idea of having the LED in the City Light but decided against it. Thought it'd be too much light in that area when I do "something else".
6000K City Light Delete
4300K + City Light (stock)
Heads + LED + Side Marker LEDs
Night Shots
4300k
6000k
Mystique in all her Glory...
02-21-10
- EXHAUST installed (Fujitsubo Legalis-R) 5" tips.. OMG
Youtube sound clip -
http://blog.rashardanthony.com/?p=191
02-23-10
- Installed HALO Icis Blues in the map lights and doors (from M-Motorsports)
03-08-10
- Installed System (Pioneer Avic F90BT Head unit, Polk Audio DB6501 components, Polk audio 1040 10" sub, polk audio 1100.5 amp )
03-14-10
Got complete bodykit refitted, refiberglassed and repainted, Painted Plenum and RHD Battery Cover
modified and installed, NRG Hood dampers Installed, NRG "Richie" Strut Bar installed all by R1Forever80
03-16-10
Replaced bulb in the trunk w/ Icis Blue LED from M-Motorsports
03-17-10
Engine Bay Clean with Vicarious Vision
shot straight on
Met up w/ Waijai later that night and he caught some AWESOME shots of Mystique w/ his Rig.. BIG THANKS MAN!!
03-20-10
- was supposed to be my first show today, but it was too cold and rainy, so I took advantage of the clouds and rented a rig and did my first rig shot
03-22-10
Shot a couple more Rig shots this morning.
stay tuned.. more to come....
---
Last edited by twalls; 05-02-2010 at

11:25 PM

.
04-16-2009, 09:18 PM
Join Date: Aug 2008
Location: Dallas, Tx/ Tacoma, Wa
Posts: 188
Thanks: 0
Thanked 0 Times in 0 Posts
saw you and your ride on Wednesday (I was the kid with the sedan :P) I love those wheels, I'd have em if I didn't want to go more lightweight. Good luck with the build
04-16-2009, 09:36 PM
Lookin' good man!
Great idea! I should probably do the same with the picture stages as mine is going to go thru a serious metamorphosis as well.
04-16-2009, 11:11 PM
I can't take the credit for originality.. But thanks for the well wishes.. Yeah.. I do this for me just as much as to share w/ ya'll..

Thanks for the compliments ninja1 & Llut5at
04-16-2009, 11:13 PM
Join Date: Aug 2007
Location: Monroeville,PA
Posts: 22,421
very nice so far
but please take off that horse emblem in the rear lol
04-17-2009, 02:21 AM
after careful consideration.. YES.. I WILL be debadging soon.. LMAO.. I'll just throw my 'stang on the IS.. (I guess it's a conflict of interest on a G)
Dang a guy can't go to SMU around here w/out being called a FORD lover.. LMAO
thanks for the compliments bro..
These will actually only be temporary (I'll rock them for some months, or until some cop makes me pull them off) I plan on using Richard's friend that paints lights.. He mentioned it before he put on the overlays.. That'll be my permanent solution, just getting them painted black on the inside.
again.. appreciate the love..
04-17-2009, 10:53 AM
glad to give back bro.. anytime.
04-17-2009, 11:48 AM
love'em... planning on getting an alignment this weekend... the ride is VERY nice.. But I also have 20s as well and since I put them on, the ride was softer to me than stock.. But I haven't been able to tell a difference in the ride since I put them on, so that's a GREAT sign.. LOVE the stance.. It was just what I wanted..




Next mods coming shortly:
Got Sean's grounding kit on it's way..
Will's HFCs comin..
Klumzyee's K2 Front, Impul Sides, and CS rear shipping on the 23rd..
06 Headlights will be installed..
Eyelids will be installed...
---
Last edited by twalls; 04-17-2009 at

12:06 PM

.